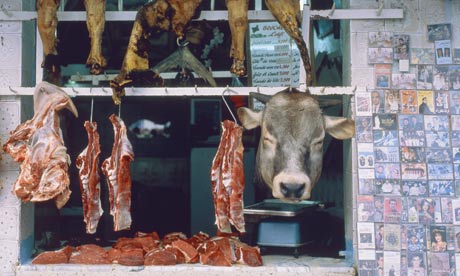 This Tunisian butcher's shop has a sideline in cassettes.
Photograph: Guenter Rossenbach/Corbis
It's been six years since Brian Shimkovitz last visited west Africa, and yet this bespectacled resident of New York has done more than most in recent times to uncover a seam of mind-boggling music from the continent – operating chiefly out of his bedroom. Shimkovitz is the driving force behind a blog called
Awesome Tapes from Africa
, a repository of cassette tapes from artists who remain almost wholly obscure in the west but are screaming out for greater attention. Visitors to the site are greeted with the scanned images of the cassette artwork and links to MP3s of all the music, as well as Shimkovitz's own pithy commentary.
One week it might be the squelchy Kenyan disco of Prince Khonjo, the black-and-white sleeve of whose album
Binadamu Hatosheki
shows a figure in feathered headdress (the prince himself?), who might have stepped out of one of east London's hipster hang-outs. "File under: bizarre/mind-blowing," Shimkovitz notes. "This simple dance of drum machine and determined vocals generates something particularly ill." Or it might be an eponymous release from a singer called Ouobraogo Charles, from Burkina Faso ("On a scale of dull to wild I'd give it a 'bananas++'"), or a cassette of hunters' music from Mali by Sékouba Traoré ("The tape swings harder and rawer than most").
It's easy to see why none of these recordings have previously surfaced outside their primary markets: for one thing, the production in most instances is incredibly raw, with none of the polish that bestselling world music albums enjoy. And before the web with its long tail came along, who could have known that there'd be an audience for such stuff, never mind a means of distributing it? One nice irony is, of course, that Shimkovitz needs the internet, but in one way his blog is a homage to a very analogue object.
"I've always been a tape guy," he says. "It's a more durable medium than the CD, and I prefer the quality of the sound, plus cassettes have their own aesthetic quality. The only advantage that a CD has is that you can skip the tracks, but I think we should all be more patient in our listening anyway."
The 30-year-old Shimkovitz grew up listening to the Grateful Dead ("on cassette") and was studying ethno-musicology at Indiana University when he was played some Fela Kuti and "it completely changed me". So much so that in 2002, he hightailed it to Ghana to research highlife music. The dominant sound on the streets of Accra and elsewhere was, however, hip-hop – not just the likes of Tupac and Biggie Smalls, but locally produced examples of the genre, the existence of which came as a complete surprise to the budding musical explorer. On a subsquent trip to the region in 2004-2005, he discovered an even greater mix of genres, often bizarre hybrid creations that saw indigenous styles trammelled through cheap electronic equipment or which seemingly bore the influence of the latest western sounds, even if the protagonist had arrived at that point after a parallel journey.
Returning to New York with piles of cassettes, he asked himself, "How can I do something with all this?", and as blogging was becoming increasingly popular – this was 2006 – he decided that he'd simply put it out on the internet. "And the positive response I received just overwhelmed me," he says. The first cassette that he posted on his blog as a series of MP3s was by a singer called Ata Kak, which he'd picked up on the street in Cape Coast in Ghana. "I knew nothing about this guy, and I still don't, really… but there was something about that tape that grabbed me, because it sounded almost like Chicago house music. It's still one of the cassettes that people ask me about most."
For some time, running the blog was just a hobby. By day, Shimkovitz worked as a music publicist in New York, working with acts on the World Circuit label such as Orchestra Baobab and Toumani Diabaté, and also with the likes of Peter Frampton and Pat Metheny. But gradually, he became consumed by the project, and now he devotes himself to it full-time, first by DJing around the world ("It can be problematic: people like the novelty, but not many clubs have a cassette deck in their back-line set-up"); now, in what might amount to an aesthetic volte-face, by releasing records the old-fashioned way, through a label of his own. This month, he is putting out on vinyl and CD and as a digital download – and inevitably as a limited edition cassette – a record by Malian singer Nâ Hawa Doumbia called
La Grande Cantatrice Malienne Vol 3
made in Abidjan in Ivory Coast in 1982.
In this, Awesome Tapes is emulating other independent labels to have championed maverick sounds from around the world such as
Sublime Frequencies
,
Analog Africa
and Soundway. The latter's Miles Cleret, whose latest release is a batch of recordings of Afro rock and funk from "Nigeria's soul brother number one"
Joni Haastrup
, describes the challenge of rescuing such material from obscurity. "It can be a minefield," he says. "The contracts are lost, old squabbles start again, the labels have disappeared, the artists have disappeared… I've gone door-to-door in Ghana, trying to find who owns the rights to a particular record. But if you're doing something commercially" – as Shimkovitz is now – "you've got to try to do it legitimately."
One second irony that Cleret points out: forget the internet, it was the advent of the cassette in the 70s and early 80s that wiped out a lot of labels in Africa – making his detective work harder – because it made copying music so easy. "I imagine that a lot of the artists whose recordings have surfaced on Awesome Tapes from Africa never made a lot of money from them anyway – they've always been used to piracy. So the idea that someone somewhere else is bootlegging their material: it's not new to them. But they'll recognise the benefits of any exposure."
Sensitive to any suggestion that he has exploited artists through releasing their material without permission, Shimkovitz says: "When I travelled in Africa, I was struck that every artist, however big or small, wanted more than anything to know whether anyone had heard of them abroad. It's not, in the first instance, a question of getting paid – which is a good thing because I've not been able to pay the artists whose music I've posted online." There is, instead, a simple message on his site: "This is music you won't easily find anywhere else – except perhaps in its region of origin. But if you're an artist/etc and wish for me to remove your music, click above and email me."
"It's not a way we could ever work," says Nick Gold, boss of World Circuit and producer of classic albums by the likes of Ali Farka Touré. "We work closely with our artists and we can only release two or three records a year, whereas there's a mass of material on Awesome Tapes. But Brian is still really picky – there's some incredible music there. I love its complete immediacy."
It is with the release of
La Grande Cantatrice Malienne
that Shimkovitz is moving to a more professional footing: proceeds from the record will be split 50/50 with Nâ Hawa Doumbia. And while Shimkovitz says she was initially surprised that anyone should be interested in such an old record – Doumbia is not entirely unknown in the west, with several albums available on iTunes, even if she's never enjoyed the profile of her peer from the Wassoulou region of southern Mali, Oumou Sangaré – she has warmed to the project. (Unfortunately, Doumbia, who "lives a ways from Bamako and doesn't speak much French", was not available for comment on this article.)
One example of what might be achieved: no one had much heard of Syrian dabke singer Omar Souleyman outside the north-east of the country, and the bulk of his albums were recordings made at weddings and presented to the married couple before later being copied and sold at local kiosks; but then Sublime Frequencies chanced upon him, and the resultant compilation
Highway to Hassake
became a slow-burn success, so much so that Souleyman has played Bestival this summer and remixed Björk's last single.
Shimkovitz is warm in his praise for all these competing labels, and is friends with other ethno-musicologists engaged in similar pursuits, such as Christopher Kirkley, who runs the blog
sahelsounds.com
, an account of his exploration of music in the Sahel region of Mauritania, Senegal and Mali. (Last year, Kirkley posted on his blog
a compilation of tunes that he'd collected from cellphones
in that part of the world, where swapping music on Bluetooth is common.) "It's an increasingly crowded field," he says, "but the more the merrier."
One advantage is that Awesome Tapes is a crowd-sourced enterprise: some of the tapes he celebrates are ones he's found himself ("via an excellent grocery store on Flatbush Avenue" in Brooklyn, in the case of
Introduction
by Nigerian Abass Akande Obesere); others are sent to him by those who've met him or stumbled across the blog. For instance, one tape was given to Shimkovitz by someone called Malene whom he met in Copenhagen, the cheaply printed cover of which showed a man in outsized convict garb.
Shimkovitz couldn't read the accompanying script. What he did know was that this tape was, as he described it on the blog, "full of leftfield soulful insanity, the kind for which I live". If anything, he undersells the strangeness of the recording: it's bananas+++ music. "Doing this blog might never get old if I keep coming across gems like this," he continued, and posted the plea:
"Please help me identify the tape."
On the blog, Malene came back to him to identify the artist as Kweysha Seta, adding: "When I showed the tape to my friends in Addis Ababa, they told me that he is still alive and he is begging in the streets. A friend of theirs has a copy shop in the area Piazza, which he visits regularly and they always buy him food and take care of him." Another correspondent, writing from Ethiopia, provided more information: "A quite sad, but funny story for many people down here is from when Kweysha Seta was offered a contract for this album. Being illiterate, it was said he was fooled into signing it, not understanding that he would only earn 500birr (about $100 in 1991, rough guessing) for it. It became a big hit, maybe even bigger than expected, and the cover was reprinted several times."
I suggest to Shimkovitz that this could be a contender for his next official release. Possibly, he says, but first he must go back to Africa in person. "This interest in this sort of music from around the world that at first sounds really wacky, it could just be a passing trend," he says. "But it's still what gets me excited." All the time? "Well, I have pretty catholic tastes," he admits. "I love Tchaikovsky and the Wu-Tang Clan. Sometimes I do just want to dance around my bedroom to Lady Gaga."
theguardian.com