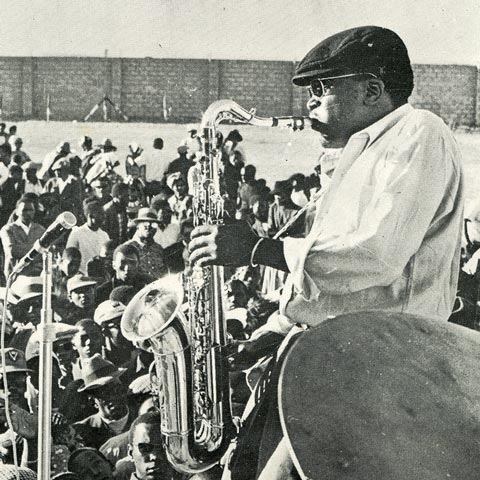 Ah... at last it's done. I mean the recording of South Africa's number one tenor sax player, Winston "Mankunku" Ngozi. This is the LP that every jazz fan has been waiting for. Listen to it from side one to the last note on side two then you'll agree with me that this is jazz, dished out by the son of the soil in a soul/jazz bowl.
About the man himself. He was born on 21st June 1943 in Retreat, Cape Province. He started playing the piano at the age of ten and two years later bought a tenor saxophone. "Mankunku," as he is called, started to take music seriously in the early sixties. His first professional engagement was with Alf Herbert's African Jazz and Variety and thereafter with South Africa's greatest bassist Midge Pike of Cape Town, about whom he said "Midge was really the man behind my success. He really helped me a lot, I take my hat off to him, dad — I will always remember him." I asked him who influenced his playing. "Daddy Trane and Brother Shorter," he said. "Is that why you composed a tune called "Dedication?" "Yes dad, I feel like crying every time I listen to the music of these two men." I first heard Mankunku play in 1967, during the La Vern Baker/George "Stardust" Green tour. I am sure that many a jazz fan will agree with me that he was the star of the show.
On the first side of this LP is "Yakhal Inkomo" (one of his original works), literally translated "Bellowing Bull." The sound of a bull bellowing mournfully at the loss of one of his kind, is one from deep down in the heart. It is with this sound captured musically, that Mankunku expresses his deep grief at the loss of one of the greatest tenor players in the world, Daddy Trane, as he calls the late John Coltrane. If you listen to the early recordings of John Coltrane — for example "Blue Train," "Moments Notice" and Wayne Snorter's "Johnny's Blues" and "Noise in the Attic," you will agree with him that he was influenced by them. The second tune is also his own composition — "Dedication" (to Daddy Trane and Brother Shorter). It is a 4/4, which is so well arranged that I could hardly believe that it is his original work — with this tune he really plays his part. He plays himself. I remember during the recording session he didn't want anyone to move about because such movements disturb his feelings and concentration. The other tunes are his choice. From Horrace Silver's works he chose "Doodlin"' and from Coltrane's "Bessie's Blues."
About the trio that provided the background, he said "they are fabulous dad, they are with me all the time. When I reach the climax, they are there with me — I love working with them." That, I myself believe, because while recording "Yakhal' Inkomo" I saw tears rolling down his cheeks after Lionel Pillay's piano solo. Everyone there was thrilled to hear Lionel play with such feeling, a real down-to-earth feeling. The Early Mabuza Trio played and played — they deserve full marks.
flatinternational.org
---
Yakhal'Inkomo
is a cry of joy wrapped in a package of protest. Tenor saxophonist Winston "Mankunku" Ngozi did not choose the title by accident: it refers to the bellow of the bull as it is taken to slaughter. Did the censors in Pretoria grasp the title's meaning? Doubtful. In 1968, life as a creative African musician in South Africa was a serious challenge, to put it mildly. But Mankunku manages to convey such an urgently joyful and revelatory sound that he transforms the message of this record to one of yearning and freedom. (Ironic in a deep way, that this massive hit record earned the artist almost nothing, since he was denied substantial rights to publishing. Mankunku eventually chose Nkomo as the name for his own label when he decided to rectify that situation.)
This CD reissue includes two records Mankunku recorded within four months: one with his own quartet (
Yakhal'Inkomo
) and one with pianist Chris Schilder's quintet (
Spring
). But his voice is unmistably imprinted everywhere. Mankunku occupies the higher realms of sound carved out by Coltrane in his later records, from
Africa Brass
through
A Love Supreme
and beyond. His style relies on deliberate exposition and development of themes, always keeping an eye on structure while stretching it to extremes. The one Trane tune ("Bessie's Blues") pays explicit homage, while the rest (mostly original by Mankunku and Schilder) drive home a similarly urgent message. "The Birds," for example, opens with an explicitly spiritual introduction. The saxophonist swings, blows, and blisters his way through these tunes, spurring his compatriots ever forward.
One gets an unmistakable sense of urgency from
Yakhal'Inkomo
from start to finish: part yearning, part celebration, part raw emotion, all wrapped together in one. The two groups on this record provide cogent, articulate support at a high level. Early Mabuza's drumming explores a wide range of colors without once losing the bliss of swing; pianist Chris Schilder adds an understated glow and a fine compositional sense.
Very few South African jazz records have come close to this level of creativity and emotive expression. One can point to the Jazz Epistles for an early antecedent or Zim Ngqawana for a modern update, but Mankunku has a rare talent for emotive expression. It's hard to give
Yakhal'Inkomo
the praise it deserves. Christ, the man was only 24 when he made this record!
allaboutjazz.com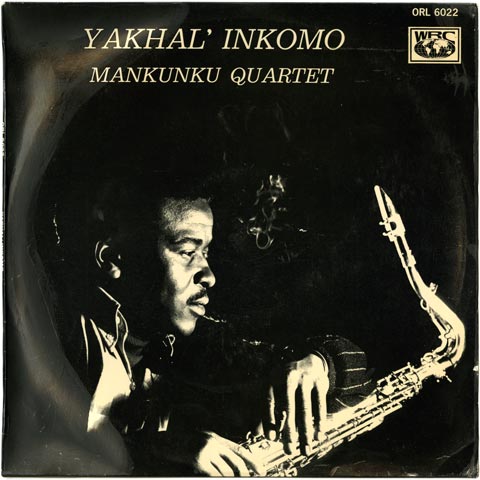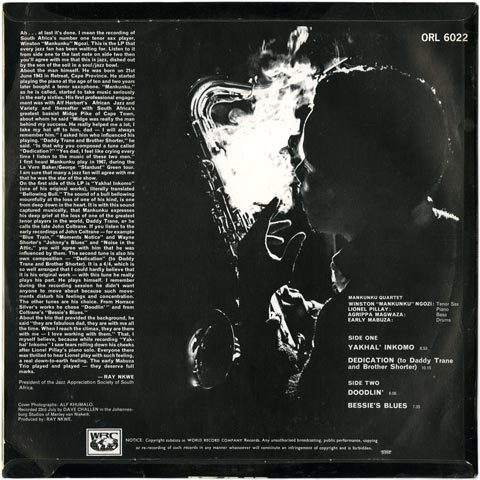 Tracklist
01. Yakhal'Inkomo
02. Dedication
03. Doodlin'
04. Bessie's Blues
05. Spring
06. Before the Rain and After
07. Look Up
08. The Birds
09. You Don't Know What Love Is