REISSUE INNER SLEEVE NOTES
By Matt Temple
[reissued by Matsuli (MM 101), 2010]
HELLO CHAPITA, HOW ARE YOU YOU?
Lost for over 30 years, the five tracks that comprise Chapita are a fleeting glimpse of the mid-70s mood of downtown Johannesburg, filtered through the artistic vision of troubadour, arranger, composer and impresario Dick Khoza.
Chapita happened in 1976 because Khoza was able to convince Rashid Vally to sponsor a recording session. That's the short story. But looking back at how Khoza "followed" the music around South Africa, it becomes clearthatthis one-off album's greatness is the sum of all those purposeful and chance connections that happened over more than 20 years. This re-mastered recording is testimony to the endurance of Khoza's musical vision and to Rashid Vally's seminal role in the history of recorded jazz in South Africa.
Khoza was born in Malawi but grew up and lived most of his life in South Africa. In Khoza's day the work available to Africans was almost exclusively on the gold mines. Conditions were harsh and rules required that foreigners be sent home once contracts were completed. But Khoza was in South Africa for the music - work was something that happened to make music possible. The enterprising and streetwise Khoza moved from city to city, always finding a way to stay in South Africa and follow his passion for jazz.
WD 46 MENDI ROAD (Xhosa)
We travelled and went to Cape Town (iKapa)
We travelled and went to Port Elizabeth, (iBhayi)
We travelled and went to East London (iMohti)
It's nice in Cape Town, Port Elizabeth, East London
In the 1950s Khoza joined future South African jazz greats Tete Mbambisa, Dudu Pukwana, Johnny Dyani, Nick Moyake and Aubrey Simani in an East London jazz group that was to become the Four Yanks. Later, while living in Cape Town, he played drums for Christopher "Columbus" Ngcukana. Legend has it that Khoza was responsible for introducing the young trumpeter Mongezi Feza to his former band mate, Dyani. Feza and Dyani, together with Louis Moholo, Dudu Pukwana and Chris McGregor, were later to become the internationally celebrated South African jazz group The Blue Notes. Khoza also toured with a show called Variety, together with singers Nosisi Rolulu and Abigail Kubeka.
In the early 1960s Khoza played with Lucky Malakana's Broadway Brothers. With the encouragement of Robert Matuba, he took up the drums full-time. At the Cold Castle National Festival in 1962, Khoza appeared with Eric Nomvete's Big Five. In 1964 he toured South Africa alongside Joe Balelka Daku in a band called The Sounds. He then formed Vuka (Wake Up) with Claude Ngcukana on piano.
By the early 1970s, Khoza had landed a regular day job at the Natal Command military base in Durban. Despite apartheid restrictions on night-time movement, Khoza snuck out at night to play with Alfred Nokwe and his Ndaba's Swingsters Jazz Band in Cato Manor. He was also active in a Durban jazz group with Pat Matshikiza, Simon "Baba" Mokoena, and Victor Gaba. At the Durban YMCA he helped younger musicians with regular jazz workshops. Khoza then joined forces with the young guitarist turned bass player Sipho Gumede in the Jazz Revellers. But the big city was calling.
Once in Johannesburg, Gumede and father-figure Khoza were drawn to Dorkay House, the Bantu Men's Social Centre, the Pelican Club, and Kohinoor Records - popular musician's meeting places and music hubs of the day. Lucky Michaels, who ran the Pelican in Orlando East in Soweto, employed Khoza as stage manager and leader of the house band. With Khoza at the helm, evenings at the Pelican often opened and closed with a rendition of the track Chapita. Well-known musicians would drop by for a session, informal jam, or to perform as part of the Sunday night cabaret. As a music laboratory, the Pelican played a significant part in the development of a number of seminal 70s bands, including Roots, Spirits Rejoice, Sakhile and Stimela. Khoza gained a reputation as a talent scout as well as a mentor (and strict taskmaster) to up-and-coming musicians.
Aside from his regular duties at the Pelican, Khoza played with leading jazzmen, including Winston Mankunku Ngozi, Cups Nkanuka, Duku Makasi, Temba Ngwenya and Roger Khoza. In January 1976, Tete Mbambisa called on Khoza for a session at Gallo Studios funded by Rashid Vally. This resulted in the highly regarded Tete's Big Sound album on Vally's As-shams (the Sun) label.
In September 1976, in the aftermath of the June 16 Soweto uprisings, Khoza took the Pelican Club house band into the studio to lay down the five tracks that comprise the Chapita album. The band included members of the Afro Pedlars (Mac Mathunjwa, Themba Mokoena and Ndoda Mathunjwa), together with Aubrey "Khaya" Mahlangu, Ezra Ngcukana and others. The Pedlars later rose to fame as the backing band for South Africa's greatest soul singer, Mpharanyana.
On the title track, in which Edgar Dikgole sings Khoza's stoic evocation of an encounter between two migrants in the city, the tension between a rooted African past and a precarious urban present is laid bare. The urban migrant "must" assure all at home that he is "doing alright", no matter how fragile and lonely he may feel. His most immediate of home comforts might well be that he is wearing his all-purpose blanket - as Khoza insisted on for the cover image of this album - a deep cultural connection, but also a cheap and practical means of protection from the Highveld cold.
Dick Khoza never returned to Malawi but retired in the early 1980s to Mdantsane, East London. From time to time he played with his musical soulmate Tete Mbambisa before passing on in the late 1980s. With this timely re-issue of Chapita - more than 30 years after its original release -the afro jazz sounds of Dick Khoza and the Pelican house band live on.
CHAPITA (Chiyanja)
Hello Chapita, how are you?
Me, I'm alright, I just came here.
How is my mother Chapita?
Me, I'll be coming home soon.
SOMEBODY UP THERE DIGS ME
Rashid Vally grew up in downtown Johannesburg. The Champion Buildings, where he was born in 1939, still stand on Market Street today. Vally attended the Central Indian High School - a private school set up by the Transvaal Indian Congress to combat the impact of racial zoning of the city under the Group Areas Act. After completing school, Vally joined his father's cafe and grocery business on Kort Street. Opened in 1956, the Azad Cafe was directly beneath the famous Kapitans' Cafeterias where Nelson Mandela regularly ate while practising as a lawyer.
As a sideline Rashid Vally's father sold Indian film music. He often allowed Qawali singers like Suliman Patel to practise in the grocery store, the bags of sugar and flour acting as soundproofing. Valley senior started recording Patel, singers from the SS Karanja and others at the Trutone recording studio in Johannesburg. He released the results as five-packs of 78s and later as 45s.
It was around this time that the long-playing (LP) vinyl format was introduced and the young Rashid Vally fell in love with Louis Jordan's Somebody Up There Digs Me LP. When he wasn't delivering grocery orders by bicycle, he was working in the store and playing the latest jazz LPs. Anyone in the vacinity of the shop would hear the latest from Hank Mobley, Elvin Jones and others. It wasn't long before Rashid Vally opened a wholesale account with a US music dealer and started to sell imported jazz records. The Kort Street cafe was renamed Kohinoor, meaning mountain of light. In 1982, a second Kohinoor store opened on Market Street.
Not long after starting the music sideline in the early 1960s, Rashid Vally formed his first label -Soultown - and started recording South African dance and soul bands, such as El Rica's and the High Notes. The idea of recording jazz only came to fruition in the late 60s after spending numerous Sunday afternoons at Dorkay House jazz sessions and getting to know musicians such as Gideon Nxumalo, Lionel Pillay and Early Mabuza. The first jazz LP on Soultown was a recording of Gideon Nxumalo, entitled Early Mart.
In 1970 Dollar Brand (later Abdullah Ibrahim) visited Rashid Vally to discuss a business partnership. With the commercial side handled by Vally, Ibrahim set about recording a number of albums. Dollar Brand +2 (Peace) and Dollar Brand+3 (with Kippie Moeketsi) were recorded and issued on the Soultown label in 1971. Underground In Africa was recorded in 1974 with a new group of rock and soul musicians and was issued on the Mandla imprint.
Rashid Vally funded further sessions for Abdullah Ibrahim and his new band in Cape Town. These sessions yielded the anthemic Mannenberg. brahim coined the name As-shams (the Sun) for the record label on which Mannenberg was released. The As-shams logo was designed by Rashid Vally's brother-in-law, Abdul Kader AIL The LP sold at least 5 000 copies in the first month of release, purely by word of mouth. It was then licensed to Gallo -and sold more than 40 000 copies in less than a year.
Following the success of Mannenberg and further recordings by Ibrahim, Rashid Vally extended the As-shams catalogue by funding numerous recording sessions for jazz musicians keen to be given free rein in the studio. These records were heavily promoted through Kohinoor, which, by then, had become a legendary hangout for jazz lovers. It was also one of the few spaces in the city where people of different races could mix comfortably.
It is no exaggeration to state that Kohinoor and As-shams were beacons of light in a dark time. Today, the albums issued on the As-shams label are highly prized by collectors, archivists and lovers of South African jazz for the freedom of spirit they capture and embody. The impact on South African jazz of the As-shams label and Rashid Vally in making it all possible cannot be underestimated.
flatinternational.org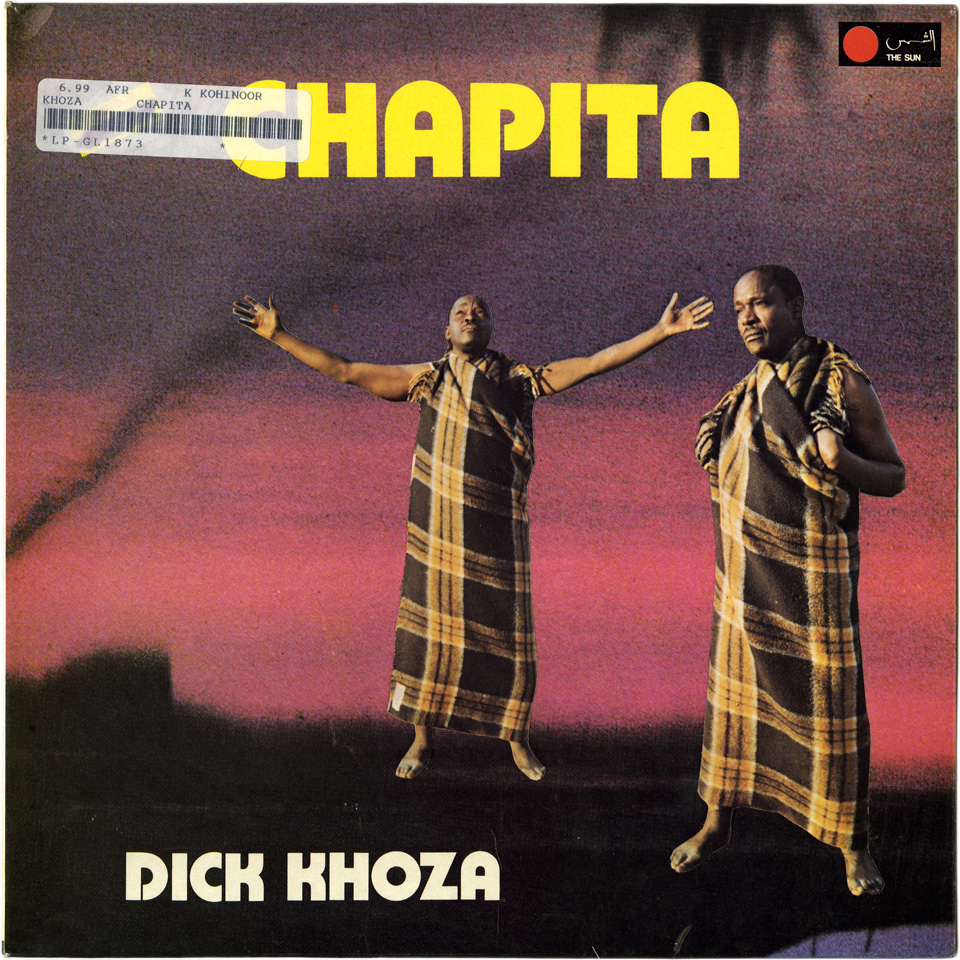 Tracklist
A1

Chapita

A2

Zumbwe (Baby Tiger)

B1

African Jive (Moto)

B2

Lilongwe

B3

Wd 46 Mendi Road